Locks for Antique Trunks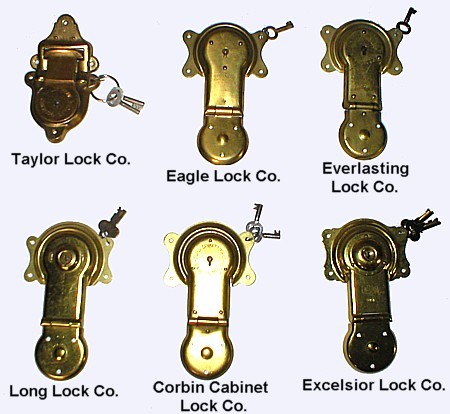 Locks for the so called early steamer trunks were first made by hand before 1833. In or around 1836, trunk locks were made by machine and continued to be manufactured as such until the late1920s with some simple modifications for the present day foot lockers.
The manufacturing of steamer trunks around 1860-1900 became big business in early America which necessitate the need for trunk locks. Some trunk companies made their own locks but most of them bought trunk locks from large lock manufacturers. The most prominent lock companies in those days were:
Corbin Cabinet & Lock Company
Eagle Lock Company
Everlasting Lock Company
Excelsior Lock Company
Long Lock Company
National Lock Company
Taylor Trunk Company
Yale & Towne Lock Company
Old trunk locks are identified by the patent dates and the manufacturer's names and numbers imprinted on the locks. Locks can be helpful in identifying the trunk manufacturer and age of the trunk. The mechanism of locks on later trunks became more complex. Keys for these trunks are difficult to make and difficult to find. The three most common locks for the antique trunks were designed to accommodate barrel keys, flat keys and corrugated keys. The modem foot lockers have simplified versions of the old trunk locks as those presently manufactured by the Ohio Travel Bag Company.
Locks for early American Steamer Trunks were designed with one of two mounting styles:
| | |
| --- | --- |
| Surface mounted locks are attached to the flat surface of the trunk and came with either a flat or barrel key: | Hole mounted locks have a round protrusion on the reverse side which contains the locking mechanism and fits into a drilled hole. These trunk locks were designed for corrugated keys: |
| | |
For information on repairing, replacing or the cost of a trunk lock, please call us at 201-768-1742 or write us an E-mail note attaching pictures of the lock on the front of your trunk. All trunk locks sold will have one or two keys.