Un-refurbished Antique Trunks
www.StevensAntiqueTrunks.com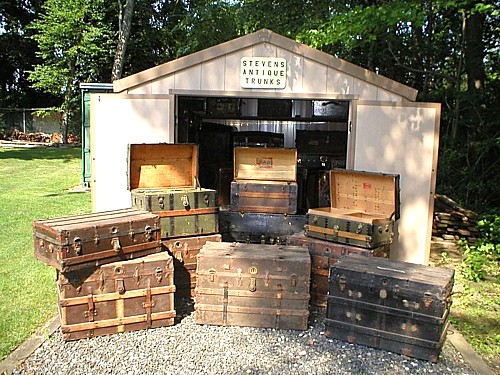 We have, for sale, a supply of antique trunks that need to be refurbished. They are in their original condition, structurally sound, but need to be refurbished to bring them back to life. These trunks were manufactured in early America between 1890 and 1915 and have great potential to be refurbished as storage units and coffee tables. This is an opportunity and a challenge for those antique enthusiasts who wish to try their skills at refurbishing an old trunk and breathe new life into it.
These trunks are available for purchase on the following basis:
Un-refurbished trunks may be purchased on as "as-is" basis. A manual on "How To Refurbish Your Antique Trunk" is available to help you in the process.
If you prefer, you can select a trunk and have us refurbish it for you. We will give you an estimate.
If you are interested in purchasing an un-refurbished trunk, call us at (201) 913-2043 to set up an appointment.
Stevens Antique Trunks
61 Harrington Avenue
Closter, NJ 07624
Phone: (201) 913-2043
E-mail: info@stevensantiquetrunks.com

Home |Refurbished Trunks for Sale | Un-Refurbished Trunks for Sale |Trunk Keys |Trunk Locks
Before & After Photos | Photo Gallery | Classified Ads | Links | Contact Us
---