A Manual filled with information designed for those who have the desire to refurbish their own antique trunk! It contains 66 pages of detailed information about refurbishing trunks with 82 pictures and diagrams to clarify instructions in the refurbishing process.
Find out how to:
clean an old trunk
remove rust, paint, old canvas, etc.
get rid of musty odors
remove and replace trunk hardware, locks, handles, studs, etc.
line the inside of your trunk
treat the outside of your trunk
install a new lid stay
construct a trunk tray
get the parts that you need
AND MUCH MORE!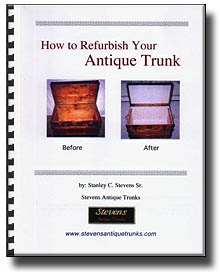 All this information for ONLY $24.95 plus $4.20 postage and handling!
(NJ Residents add $1.75 NJ State Sales Tax)